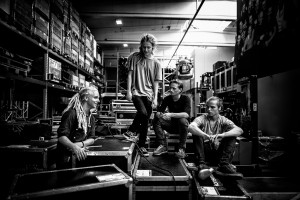 Alex Delver – vocals
Magnus Andersen – bass
Espen th. Granseth – drums, vibraphone
Erik J. Halbakken – guitar
Delvoid is a progressive rock quartet from the outskirts of Oslo. Dynamically diverse, uncompromising compositions performed with ferocious energy.
Delvoid has since 2008 been working up a reputation for intense, energetic and dynamic live performances. Their music spans from noisy walls-of-sound, to vulnerable vocal melodies, to mammoth-sized riffs, all composed with detail and taste.
After playing a series of smaller shows, climaxing in a support gig for Turbonegro, they released their debut album "Delve" in the fall of 2011, announcing themselves as ambitious newcomers in the realm of progressive rock. After releasing "Delve", they went on playing various festivals in Norway, including Fjellpark Festival (Norway's oldest rock festival), hosting small hidden concerts in the forest, and composing a soundtrack for the documentary "First Contact" by Johan Wildhagen concerning uncontacted peoples of the South-American rainforest. The band has also become the annual headliner of Musikkens Dag (The Day of Music) in their home town of Nesodden.
In 2015 they released their second full-length album "Serene". It was almost three years in the works, and Delvoid made no half measures and spared no expense in completing their musical venture into the deep waters of prog-rock and post-metal. Featuring a plethora of guest-musicians including the acclaimed violinist Ole Henrik Moe, and several classical musicians of the Oslo Philharmonic Orchestra, "Serene" is an epic, daring release clocking in at 75 minutes. Lyrically, "Serene" explores themes of developmental psychology, maternity and disillusionment. These themes are reflected in Roland Goksøyr's fine artwork, painted in tandem with the band's music. Serene was quickly followed by the EP "Switchman", consisting of three upbeat tunes, representing the band's more playful side.
Delvoid is currently working on preproduction of their third album, and hope to see it completed by 2018.